Just Launched …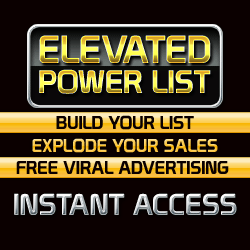 Elevated Power List Offers:
**A Rapid and Effortless List
**The ability to build HUGE Downlines
**Multiple Ways to Build your List
**An Opportunity for huge commissions with their affiliate program
**Targeted traffic to your websites
**A credit based system that ensures your emails are being read
and your websites are viewed
**$100 in FREE Advertising just for grabbing your free membership
**A Tracking system – See how many clicks your ads receive and
when its time to replenish your ads
Grab your free membership today and you will experience
first hand the thrill of getting instant traffic with
almost no effort whatsoever.
TrafficSpeedway's surfing with TOPFLIGHT Traffic, was great.
Many of you surfed a lot, earning you a large amount traffic for your web business.
bojja is SPEEDY's Grand Prize Winner
A Full Week's *Start page of the day($20 value)
rinsoptc   Won 500/1000/2000
firefly    Won 500/1000/2000
brendab    Won 500/1000/2000
earthgifts Won 500/1000/2000
Cdrich     Won 500/1000/2000
*Start page is the 1st Page seen by every surfer,
and this page gets the most daily views.
TrafficSpeedway.com Accelerating your traffic
Manual traffic exchanges are like swapping business cards, only your online. Basically you receive visits to your web site, banner and text ads by viewing the sites and ads of other members. So you are exchanging traffic, see? 🙂
There are auto surf traffic exchanges, but I will only be addressing manual TE's; Traffic Exchange = TE other common terms include… Surfing exchange or Hit Exchange,
The biggest obstacle to online sales is Traffic. Many people don't know where to begin to get traffic to their website.
TE's offer a real Traffic Alternative to online advertising for your web business, blog or affiliate programs. Instead of you chasing down people to swap advertisements with, we bring them to the TE.
Most all TE's are free to join but also offer cost effective advertising packages.
I have used various TE's for years and consider them great marketing tools. Advantages to advertising in TE's…
Branding!, list building, gather leads, make sales, etc.
Shows your web business, blog etc. to very diverse visitors
Allows you see what other people are promoting, get ideas to better target your own advertisements.
How to join? Fill in the join form, Name, username and email. Next you'll need to verify your email (simply click the verify URL the TE sends you)
What's Next? Begin by submitting your URL or surfing, as some TE's require you to surf prior to adding URL. You earn credits by viewing(surfing) other member's sites, normally for 10 seconds. You pay for your own ads with credits, so make sure you assign credits to your URL so your ads get shown to others. You visit someone else's website and, in exchange, someone else visits your website.
Thanks for your time,
Randy Fountain
Traffic Speedway's Winners of April Fools Event…
2031 – 1 Month Pro3 upgrade
1700 – $5 + 500/500/500
1665 – 1 Month Pro2 upgrade
1824 – $3 + 300/300/300
1842 – $2 + 200/200/200
Prizes have been Awarded
TrafficSpeedway, ElevatedTraffic and HelpHits PRIZE Winners…
2031-$3.00  + 400/3000/3000
1700-$2.00 + 300/2000/2000
1665-$1.00 + 200/1000/1000
1824            100/1000/1000
Thanks for a great turn out 🙂